Vodafone offers unlimited calls and SMS for the best prices on the Czech market
Vodafone links tariffs for unlimited calls to any network and unlimited calls within the network and brings to market new unlimited Red tariffs. These tariffs are part of a global strategy of Vodafone Group and has been gradually introduced or is about to be introduced to most of Vodafone's branches worldwide. Part of the new unlimited tariffs will continue to be the ability to get a discounted phone. To retail and business customers, we offer new applications for your phone's security, higher tariffs will also include 1000 minutes of calls abroad and Red Premium also 600 minutes and 300 MB of data roaming. The new unlimited tariff plans will be available to activate for both corporate and retail, new and existing Vodafone customers from 27 May.
"I believe that the new tariff structure is at first sight clear and will meet the needs of the vast majority of customers. When creating new unlimited tariffs, we were primarily guided by wanting to continue to bring our customers the best value for money on the Czech market," says Petr Dvořák, Vice President, Retail Customers at Vodafone.
New tariff offers: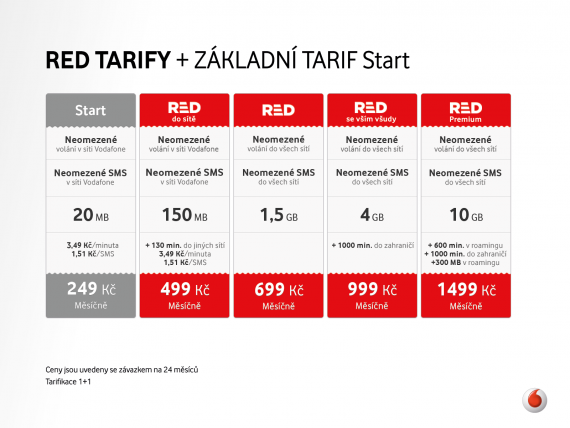 Customers can also get at a higher price tariff, a phone for one crown for all tariffs: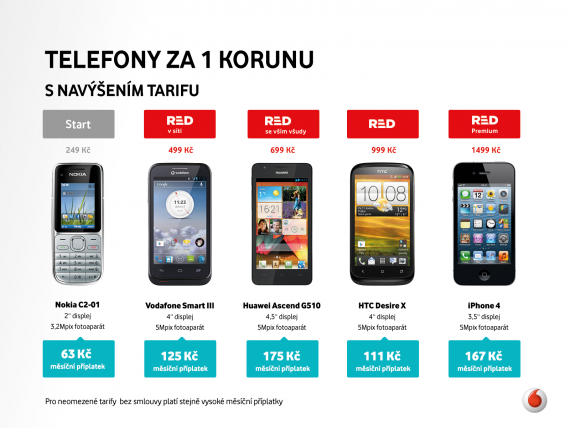 When acquiring unlimited tariffs without a contract, the customer pays monthly premiums as high as the acquisition of the discounted phone. The tariffs, which only include calling to the home network, have calls to other networks charged based on 1 +1 billing.
Offer for business customers: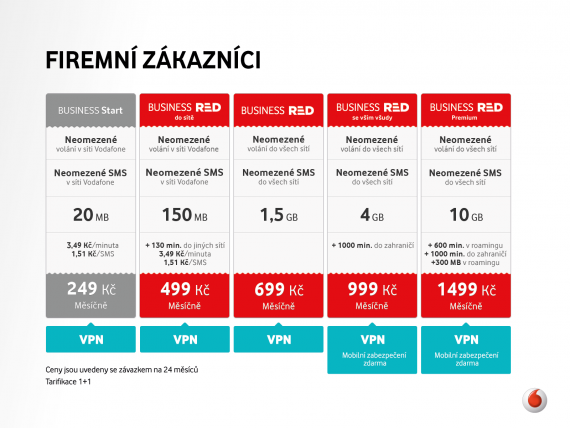 "We decided that the new tariffs will bring customers something more than just unlimited calls and SMS. Customers can therefore get a discounted phone tariff, a 50% discount on a data SIM card, or for secure content, smart phones and tablets. It will be appreciated by mainly corporate customers, for which data are often far more valuable than the device itself," says Petr Ryska, vice president for corporate customers at Vodafone. 
Secure telephones and tablets:
For corporate customers, we have prepared an advanced solution called Mobile Security, which is free at the two highest tariffs in Red Business. For other customers, the price is 49 CZK per month. Mobile Security can be used for all operating systems. The service offers the ability to lock a forgotten or stolen phone, remotely delete sensitive data or to locate the handset or tablet. Other features include an anti-virus program for the open Android operating system and the ability to manage multiple devices by one company administrator.
For retail customers who use phones with the Android operating system, we offer a free basic version of Vodafone Protect. With this application, you can also remotely lock your phone, delete data or locate the phone. 
Roaming:
The highest tariff (Business) Red Premium for 1499 CZK includes, among other things, 600 minutes of incoming and outgoing calls while roaming and 300 MB of data roaming.
For other Red tariffs, customers can, before going abroad, activate the Vodafone Roaming service per day for 99 CZK, with which they can call and SMS unlimited and use up to 100 MB of data.
Free minutes and data can be used in all these countries:
Andorra, Austria, Belgium, Bulgaria, Croatia, Denmark, Estonia, Finland, France, French Guyana, Gibraltar, Guadeloupe, Guernsey, Iceland, Ireland, Italy, Jersey, Cyprus, Latvia, Lithuania, Luxembourg, Hungary, Malta, Martinique, Monaco, Germany , Netherlands, Norway, Isle of Man, Poland, Portugal, Reunion, Romania, San Marino, Slovakia, Slovenia, Spain, Sweden, Switzerland, Vatican, Great Britain
Calling abroad:
Red Tariffs with all the trimmings and Red Premium include 1000 minutes of international calling.
Free minutes can be used for calls to these countries:
USA, Canada, Greece, the Netherlands, Belgium, France, Spain, Hungary, Italy, the Vatican, Switzerland, Austria, Great Britain, Denmark, Sweden, Norway, Poland, Germany, Gibraltar, Portugal, Luxembourg, Ireland, Finland, Andorra, Monaco , San Marino, Slovakia 
The main advantages of  Red tariffs:
The best price on the market
Unlimited calling from CZK 249 in the basic offer
Discounted prices for all phones
Basic phone security free
Discount of 50% on a data SIM card
Free minutes for international calls and roaming with the highest tariffs
All tariffs can be purchased without a contract
Packages for corporate clients include unlimited calls within the company