A successful Christmas at Vodafone. We handed out 20 million GB of data and other presents
Vodafone handed out for Christmas 20 million GB on the fastest data network LTE and more than one hundred thousand other presents. A total of 200,000 customers unwrapped 100 GB of free mobile data.
The 100 GB was used by half the customers to stream videos, and often another gift, HBO GO, where they watched a total of 215,000 hours of films and serials. This represents almost 25 years of uninterrupted watching. The most frequently watched film was Hobbit: The Battle of the Five Armies, and among the serials, a new Czech version of the HBO production, Mammon.

The average monthly data consumption of customers who made use of the Christmas offer increased five times, ranging from 3 GB to 5 GB. "The customers appreciated particularly the fact that the Christmas offer was not subjected to any purchase of services and was open to all. What they liked best was the big chunk of free data that allowed them to test the quality of our network and have a good Christmassy time on the Internet," said Petr Dvořák, vice-president for non-corporate customers.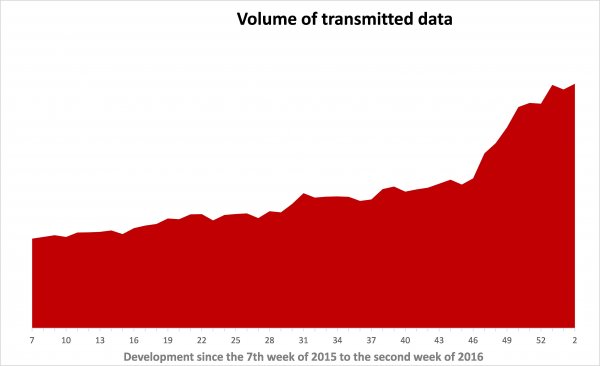 Graph 1 – Increase in volume of transmitted data after activation of the 100 GB Christmas present in the application Můj Vodafone. The strongest day on the network was Sunday 10 January 2016